Read the complete 2010 Annual Report.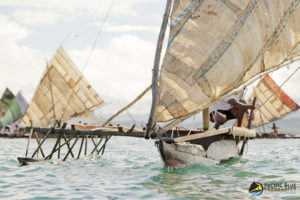 In 2010, Pacific Blue Foundation placed a majority of its focus on the preservation of Fijian culture. Sustainable practices, however, are often part of traditional ways.

The previous year ended with a celebration that extended into 2010: The inauguration of the High Chief, Roko Sau. Pacific Blue Foundation opted to ring in the New Year by sponsoring the travel expenses of the High Chief's family and local press so that they could take part in this long-standing tradition.
In late January, Fiji's seafaring culture was commemorated with a historic boat race on Suva Harbor. The event was intended to draw local interest to ancient Fijian craftsmanship and sailing, while also providing the villagers with a new tourist venture.
Improving the living conditions of a special needs boy also found precedent in Pacific Blue Foundation's work in 2010. Pacific Blue provided a grant for the improvements and requested funds from the Ministry of Health, which were granted.