Read the complete 2009 Annual Report.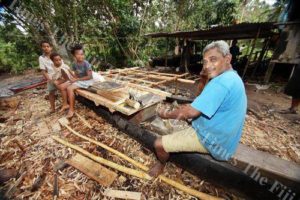 A Fijian village's economy relies heavily on its fisheries. In an effort to sustain the marine resources of Fiji, Pacific Blue Foundation placed much of its energy into environmental conservation in 2009.
Pacific Blue Foundation worked with several consultants to determine the needs of Yanuca Village and the four villages on Totoya Island. Pacific Blue Foundation used the information to evaluate what strategies could be implemented to better assist the villages.
Dr. Mark Calamia embarked on a study regarding Marine Protected Areas, particularly at Yanuca Island, and  the indigenous people surrounding them. The study was later provided to Conservation International for publication. Pacific Blue Foundation also sponsored a Control Program for Crown of Thorns Starfish (COTS) off Yanuca Island, in an attempt to prevent the COTS' consumption of coral. Coral Reef expert, Austin Bowden-Kerby, informed villagers of the COTS' potential impact, demonstrated how to properly dispose of the COTS, and led locals in a removal effort in the field. The removal of the Crown of Thorns Starfish is an important part of the village's reef management, since this starfish threatens the coral reef, and therefore the local marine ecology.
In September, Dr. Andreas Hamm, from the National Institute of Water and Atmospheric Research (NIWA), studied options for alternative energy in Yanuca Village and Totoya Island. Dr. Hamm also reported on the efficiency of cooking methods in Yanuca Village.