Project Overview
The Veitau Waqa – the boat lives is an exciting annual Fijian event, gathering hundreds of Fijians to the Suva foreshore to witness traditional Fijian sailing. The purpose of this event is to raise public awareness of Fijian boating traditions and revive the fading knowledge and culture that is centered on a connection with the sea.  Launched in 2010 by The Pacific Blue Foundation, the event is now a popular annual boat race where the public can view the sailing of tradition handcrafted boats, hewn by Fijians from forest trees and local fibers.
Why is Veitau Waqa important to Fiji's culture?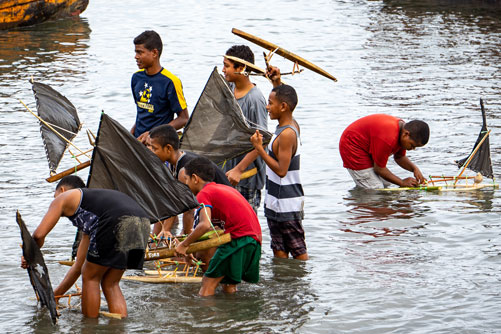 A main impact of the event is re-invigoration of the tradition of Fijian boat building, craftsmanship and sailing. It has been successful in reaching children at an early age while they are learning to sail their toy boats – Bakanawa. The event sparks the aspirations of children to continue their deep ancestral connection to sailing to later become the craftsmen and sailors of the full size boats – Camakau (mono-hull with outrigger) or Drua (double-hull). People get the opportunity to experience centuries-old craftsmanship demonstrated in the building and sailing of traditional canoes, whilst re-invigorating this once vastly celebrated tradition of art and skill that has long been passed down through generations.
What are we doing to help?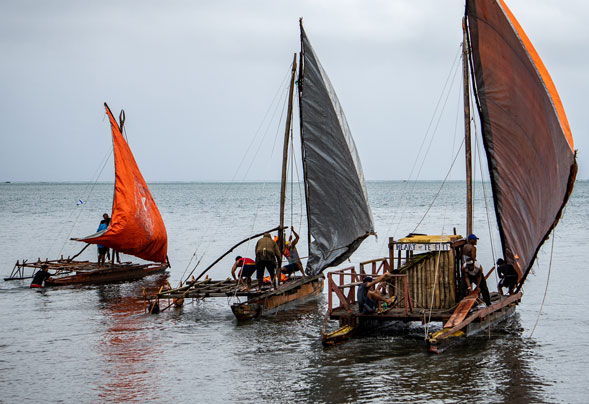 Pacific Blue Foundation has been working with the communities that originated from the Lau Island, the last Fijian island group that still possess the sailing ancestry knowledge, to organise, resource and host the Veitau Waqa in the last decade. 
The event has grown steadily in popularity since 2010 and today is recognized and loved by a growing number of fans and supporters globally.  The style of the boat races on the event day is exactly as used in the Lau Islands by the elders of the sailors and boat builders.
In the future, PBF aims to facilitate the uptake of this tradition throughout island communities of our two featured projects, Beqa Lagoon Initiative and Lau Seascape, as a way of preserving cultural traditions, whilst facilitating sustainable seafaring activities and ocean stewardship.
Click here for more information on Veita Waqa