A future for ancient boats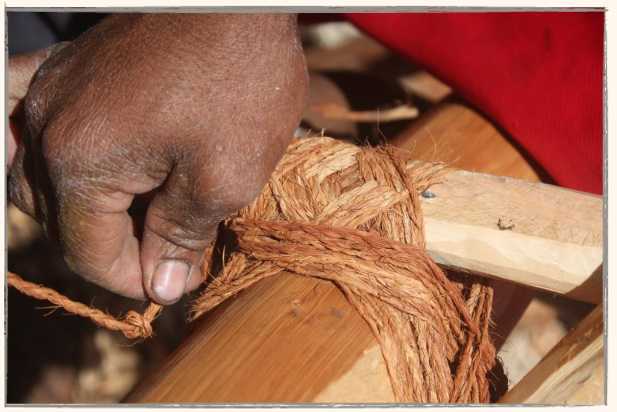 From Fiji Time inflight magazine - Fiji Airways (July/August 2015)
About a thousand years before the birth of Christ, the first Fijians ploughed through hundreds of miles of uncharted waters of the Pacific Ocean with nothing but currents and stars to act as their GPS system. The mighty dug-out outrigger canoe was their only transport. They battled ferocious seas and weather to find landfall among the 300 scattered islands that would later become Fiji. Quite an extraordinary feat, considering it took place at least two thousand years before the Vikings navigated their longboats to the coasts of Greenland and America.
Testament to the ingenuity of the traditional Fijian boat builders and voyagers is that these smaller outrigger canoes were until a few decades ago used as the pickup trucks of the Fijian lagoons: ferrying people to fishing grounds and transporting trade goods such as coconuts, tapa cloth and hardwood from island to island. A much smaller number of these boats are still around today, but with technology that brought the outboard motor on a fibreglass hull, and the departure of many youth from outer islands to secondary schools in urban areas, the use of traditional craft has seriously declined. But the tide is now turning.
Hundreds of Fijians gathered on the foreshore of Suva harbour in August last year to witness Veitau Waqa- the boat lives, a traditional outrigger canoe race. Conceived in 2010 by The Pacific Blue Foundation, a non-profit organisation dedicated to cultural and ecological conservation in Pacific island countries, the event is now an annual boat race. People get the opportunity to experience centuries-old craftsmanship demonstrated in the building and sailing of traditional canoes, with the purpose of helping invigorate a revival of this once dwindling art and skill down through the family.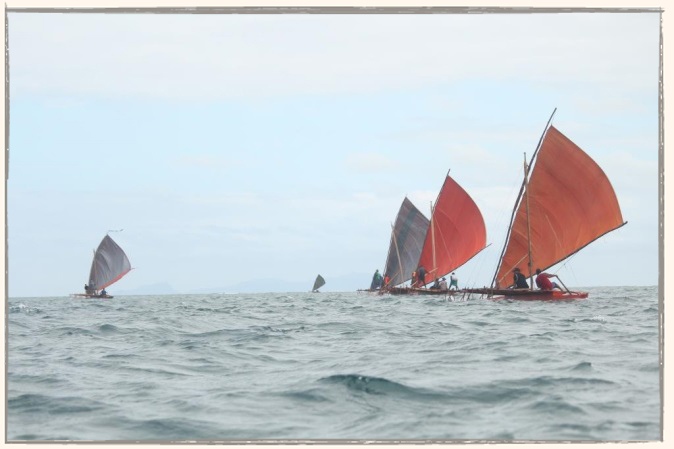 "There could be all sorts of possibilities if these traditional boats were kept as a way of life around the communities that still have them," said Pacific Blue Foundation's Pacific Islands Coordinator Kerry Donovan.
The boats racing in this event are known as camakau, the little sisters of the large, ocean going, twin hulled drua that were used for inter island travel in past centuries.
The design of the camakau and its sailing rig are now believed to have changed over time with Tongan and Micronesian interchange, evolving into a happy marriage of technologically appropriate but refined design elements made with local renewable materials. These vessels are remarkably speedy, with a twin sparred, triangular shaped sail that can be reversed to go in either direction.  
The camakau in the boat race all have roots in distant Lau province, a group of small islands scattered across a vast expanse of ocean, located to the east and southeast of Viti Levu. These islands were the traditional centre of the canoe making culture and in recent years have been the final repository of construction traditions involving all family members which are now nearly lost.
The Lau islands of Vulaga, Kabara, Moce and Ogea and their descendants' communities in Suva remain homes to some of the last of the true canoe craftsmen, known as the matai, which literally translates to skillful or clever. These men and the youth who learn from them can select and prepare from the forest every part for these iron free vessels, from the hardwood hulls to the coconut fibers that form the lashing lines.
However, even in these island locations, the use of the canoe has declined greatly, with few canoes now being maintained for either work or pleasure. The number has dropped even from a documented 140 still in operation in the mid 1990's, which was then down from uncounted numbers in earlier centuries.
There are a handful of reasons to explain this decline. Joji Misaele, a 50 year old university lecturer from Ogea and boatbuilder taught by his father, points to the all important issue of safety as a prime factor. According to Joji many lives were lost at sea – and he should know as his family was dealt one such unfortunate blow.  Joji's elder brother joined four other villagers on a camakau as they attempted to sail from Komo to Ogea, a distance of a little over 20 kilometres. The party lost their course and began to drift. Only three of them survived and made it back to the island and Joji's brother, only 12 years old, did not.
Undeterred by this tragedy, Joji was determined to continue his family's boat building legacy by working on constructing safer traditional canoes for sea voyaging. The master builder has also passed on this island craftsmanship and skill to his young students.
"As Fijians we must remember to pass on our traditional knowledge of canoe building and other practices that we value to our children so that we don't lose them. That is our culture," said Roko Josefa Cinavilakeba of Pacific Blue Foundation, who is the Roko Sau, a chiefly title from Totoya Island in Lau.
Despite "Veitau Waqa - the boat lives", the future of these traditional canoes is unclear, with few examples of these boats outside the National Museum in Suva until Pacific Blue Foundation worked with the islanders to re-establish the traditional races and construction of camakau on Viti Levu.  "The sailing canoes were the steamship, the locomotive train, the jumbo jet of ancient Fijian trade and travel,"  according to Dr. B. Greg Mitchell, Chairman of Pacific Blue Foundation and the one who conceived this important  cultural conservation effort.  "The boat is part of the story of the ancestors of all Fijians, whether they hail from the islands or the mountains" he continued.  "We are proud to have been able to contribute to cultural conservation of the camakau so this ancient knowledge is not lost and their sailing grace can be enjoyed by all at the annual "Veitau Waqa – the boat lives."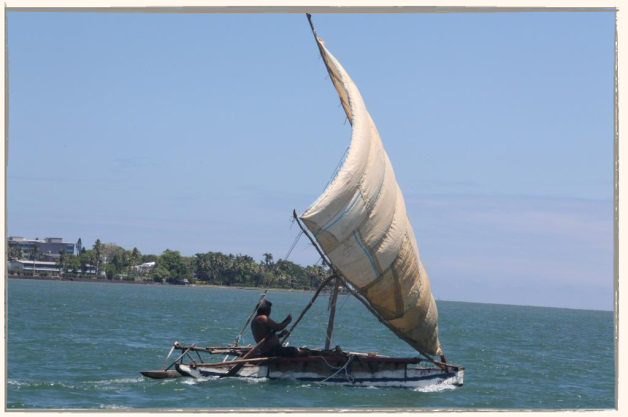 The camakau and the drua imagery can be seen in much of Fiji daily life, from phone booths and  park benches to walls of restaurants and bars, on 50c coins, logos on commercial products, company signs and in government departments and in model form sold in handcraft shops.  This abundance of the camakau as a cultural object is in stark contrast to the rarity of the actual vessels.
"We have a unique culture and these canoes are part of our culture. Let's preserve the know-how of boat building and canoe sailing for our children so they know and hopefully appreciate how our elders long ago travelled," the Roko Sau said.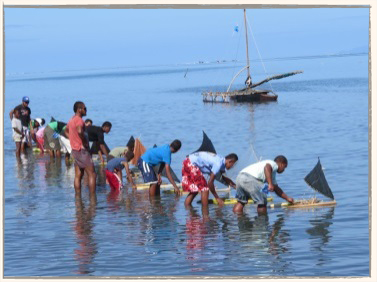 Kerry Donovan said the past three boat races have had a special youth division, Veitau Bakanawa.  
"It has drawn more and more children with their model camakau made with skills learnt in the village from their parents," he said. "The race day has also attracted the i-Taukei Lands Trust Board as a funding partner which resulted in four new 40ft camakau being built.  We welcome more partners so these valuable traditional skills can continue to thrive."