Mangroves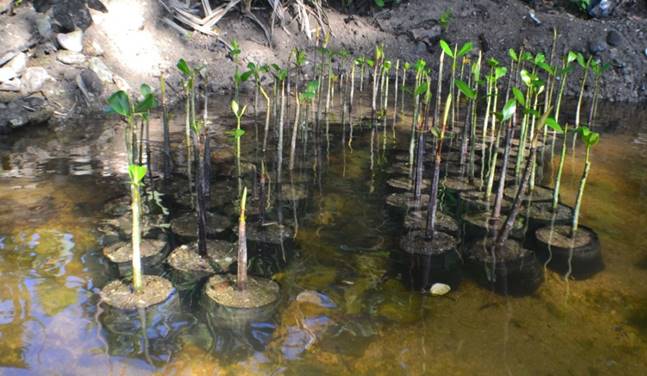 Propagules at a mangrove nursery in Beqa Island
With a plethora of anthropogenic activities in the last decades, increasing locations of once thriving mangrove forests in Beqa Lagoon have degraded or even disappeared. The main contributors to these declines are from unsustainable harvesting for timber, firewood and material dye. Clearings of these areas are causing a loss of natural habitat as prime nursery grounds for a variety of organisms, at the same time increasing coastal erosion.
The program involves active biological restoration interventions through rearing mangrove seedlings in nurseries and transplantation to degraded areas in both Beqa and Yanuca Islands. This program provides a platform for education and awareness of the state of mangroves, advocating for the prevention of the forests' deterioration.
The project is focused on creating low-cost, locally managed nurseries for mangrove seedlings present in Beqa Lagoon. When the seedlings grow big enough, after approximately six months, they are transplanted to targeted sites where old forests have been damaged both on Beqa and Yanuca islands. The project is based on local communities' efforts and engagement, having traditional use of the mangrove area; and involves community education and involvement in the fieldwork and planting efforts.