Our Work to Preserve Ecology
Work in Fiji
The Fijian Islands boast biologically diverse marine environments that were once prevalent throughout the world. Unfortunately, anthropogenic effects, such as overfishing, pollution, and anchoring, are now beginning to devastate Fiji's coast and fisheries as well.
Pacific Blue Foundation wants to promote sustainable practices and resource management plans that will restore deteriorating ecosystems and conserve healthy and sustainable environments. We collaborate with other organizations and departments in order to properly facilitate such workshops and understanding.
Efforts to Preserve and Protect Ecology
PBF supports workshops that inform locals of environmental issues
PBF consistently collaborates with a number of organizations, including the Fiji Locally Managed Marine Areas network (FLMMA), in order to provide Marine Resource Awareness and Management workshops for island communities. The workshops focus on environmental concerns and how threats to the environment may affect locals. Communities learn about their impact on the environment, and what they can do to improve the reef ecosystem.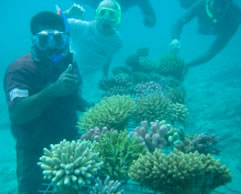 PBF helps implement sustainable community programs
PBF sponsors programs that aim to encourage coastal communities to preserve the environment. PBF hopes that locals will be more willing to manage and safeguard their coastal resources once they are introduced to specific methods that protect their environment. Programs range from Controlling Crown of Thorns Starfish, to rehabilitating coral reef structures, teaching locals how to restore balance to the reef ecosystem.
PBF provides funding for conservation studies
PBF supports a number of studies and ecological research that aim to determine the health of coastal ecosystems, the state of local resources, and the effectiveness of various programs that have been set in place to benefit island communities and the environment. PBF uses this information to better understand which environmental issues need the most attention and to determine what can be done to improve implementation of sustainable practices.