By: Ulamila L. Matairakula; Environmental Officer, Pacific Blue Foundation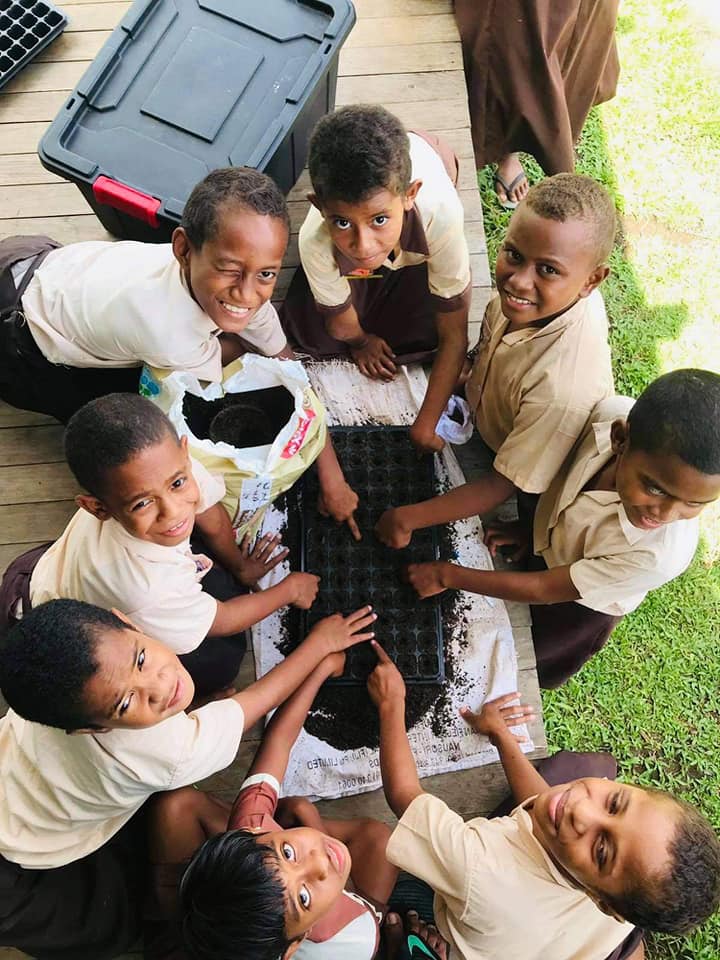 No doubt, these are definitely challenging times!
COVID-19 brought many negative impacts that seized the world, it pushed us many steps back. Many people lost their jobs and some have resorted to returning to their villages enjoying the luxury of the simple village life.
What a wonderful site to see the entire family farming where the fathers and sons are planting root crops in their uphill farm and mothers are planting vegetables around their homes; cabbages, eggplants, lettuce – you name it, they plant it. Home cooked meals never tasted better! They usually say – go the village, save your money! I guess, that's just it – you don't need to eat anything fancy or costly – you just need to eat something healthy and affordable.
These communities depend so greatly on the land and sea for their livelihood. But our reality is worrying and full of questions. Our climate is drastically changing – no doubt – today we have at least 2-3 tropical cyclones in a year, sometimes within one month. These cyclones greatly affect these families and the very resources they depend on, harvested from the land and the coral reefs – their source of nutritional food security. Children in boarding schools can no longer take homegrown food; rather their parents alternate to buying processed foods from the shop which is not always healthy.
When we introduced the idea of the Green Schools Program in the two schools in Beqa and one in Yanuca Islands, the schools' community were interested and knew it would be the answer to the lingering difficulties of providing nutritional food security to students. Not just that – this program offered a two-week workshop for capacity building on various techniques of vegetable farming, using readily available resources for farming purposes, cash crops, value-added products while reducing the pollution and increasing the environments' health, synergistically. In these trying times, this kind of capacity building supporting enhancing knowledge and skills for these communities is just what they needed, especially through the practice of organic farming.
Implementation of the program is done through a collaboration between parents, school committees and school staff. Students faces were filled with interest and curiosity eagerly wanting to partake in the construction of the systems, and they did – they participated in planting of seedlings and trimming of vegetables. OH, the excitement and smiles on their faces while doing so! Many times we push our children to pursue careers in white-collar jobs; though we fail to recognize the wealth and richness in sustainably utilizing our natural resources for a livelihood. Sustainably utilizing the land and sea can give just as much income as those white-collar jobs. Most times it is only when our children are not too successful in their academic pathway that they are told to return to the village and farm. But we, as parents and guardians, should encourage our children that utilizing our natural resources as a source of livelihood should never be the last option – it should actually be the first. It conserves our environment by maintaining the intricate traditional and cultural elements that are passed on from generations. There is nothing more meaningful than conserving and maintaining our traditions and culture, especially in this modern world.
We acknowledge the United Nations Development Program and the Canadian High Commission, the main funders of the Green School Program. To our main implementing team, the Fung's Farm and to our major partners under the Beqa Lagoon Initiative; Fiji Locally Managed Marine Areas, Ministry of iTaukei (indigenous) Affairs, and most importantly, the communities of Beqa and Yanuca Islands.